Post Mount Dropouts Stainless Steel
Dropouts are post mount 140 mm and can be converted to post mount 160 mm with Avid spacer
Material is 316 stainless steel dropout and boss
Recommended Fillet pro to joint and stainless light flux
Front mount boss cranked for position with minimal material to remove for fit
Tested with current disc calipers

Fork Blade for Disc Brakes
853 27.5X20 1.1 x 370mm 45MM OFFSET - 17.2mm tip
Cast plug in fork ends to fit available.
Aluminium Tube Blocks.
Available in 5/8", 3/4", 7/8", 1", 1 1/8", 1 1/4", 1 3/8", 1 1/2" bore.
Q4 Tig Dropouts for Shimano Direct Mount
Steel Sliders for Tig Weld with adjuster Holes:

DR05I Right with gear hanger, left with disc mount
DR05J Right with gear hanger, left no disc
DR05L Right no gear hanger, left with disc mount
DR05M Right no gear hanger, left no disc
Seat Stay Splitter 3 Part.
16 or 19mm.



HT44 - Head Tube 43.95mm Internal Diameter
4130 Steel. 1.15mm thickness. Available 100, 110, 120, 130, 140, 150mm. With vent holes. Also 90, 170, 190, 220mm No holes
Hole 19mm Diameter, centre 23mm from top, 33mm from bottom
170C Triple Cable Stop Bolt on
4mm Cable Left and Right, 5mm cable centre.


193L Stainless Steel Brake Bridge.
Allen key fitting.
202 Zip Tie/Cable Stop Combination. Cast
959N Front Relieved Stainless Fork Dropouts
17/4 Stainless
953F Stainless Plug Fork Dropouts
Sized for 953 fork tips. 17/4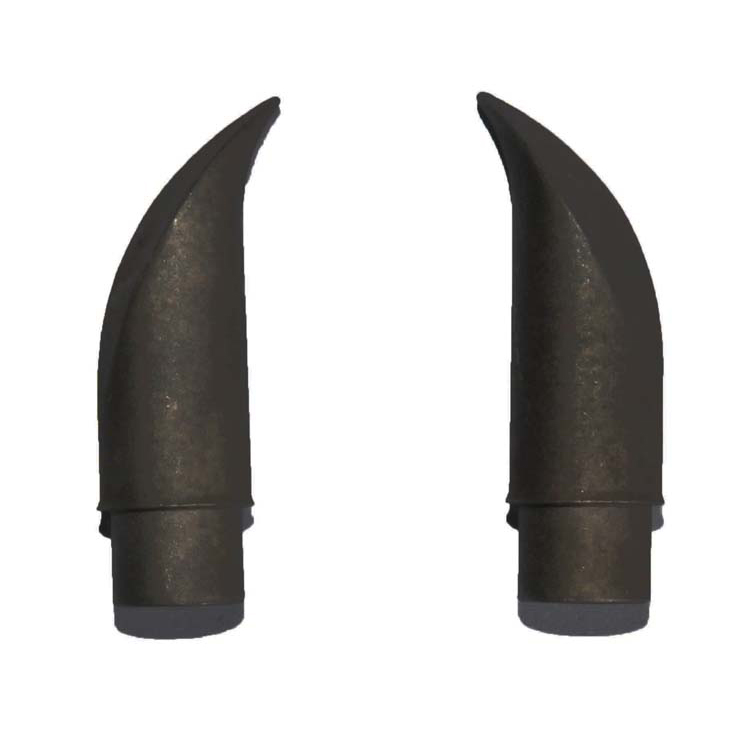 323-16S Top Eyes Stainless
16mm. Suit XCR seat stays
312S Top Eyes Stainless
16mm. Suit XCR seat stays.





F472 Bottle Boss and Diamond
F472S As above in Stainless


Columbus Hiver Fork Now In.
Year Round Fork Winter Fork for 28.6mm Integrated.
Suitable For use with 'long reach' brakes.
With mudguard Eyes. 400g

N3 Touring Fork Crown for 28.6mm Steerer
Oval Blade 27.5x20 to fit Columbus, Reynolds etc
Cast internal fender and rack strut pegs and generator wire routing. 4.5mm. from blade top to crown race. 14.5mm. from brake bolt center to crown race. 54mm. between tangs. 143gm. weight. Crowns supplied with 4 casting points which can be ground off before or after brazing in fork blades.
Fizik Cyrano Carbon Seat Post 30.6mm.
Sized for Columbus SLFM13635 Seat Tube and other equivalents.
Now no need to use these luggable seat tubes only with shims.
Designed to work with standard 7mm round rails, as well as rails with oval cross section up to 10.3 mm
Clamping mechanism
Narrow upper clamp
Ultra-wide lower clamp: increase contact

surface between clamp and rails
Ultra low profile upper clamp: increases space for the Twin Flex prop

er

ties of the Aliante, Arione and Kurve
330mm Length
Spirit for Lugs Main Tubes XL - Niobium
31.7mm Top Tube 0.7/0.5/0.7 x 600 (60/40/350/40/110)
35mm Down Tube 0.7/0.5/0.7 x 670 (60/40/385/40/145)
31.7mm Seat Tube 0.7/0.5 x 650 (150/40/460)
New Columbus Seat Tube for 31.6mm Seat Post
32.7mm OD Externally Butted 560 or 635mm (ZON113560001 or ZON113635001)




Q9 steel derailleur mount.
Suitable for Shimano's FD-M771D and FD-M661D front derailleurs.
1 1/8" in diameter, has a 1 1/8" miter, and is ready to mount to the seat tube. Sold individually.
10mm and 8mm Cromoly Tube Lengths
10mmx0.9x1500 and 8x1.0x1500mm
Piccoli Gioielli Dropouts
64, 68 and 72 degree. Steel and Stainless Steel

Fronts also now available in Steel and Stainless Steel

Only available with name.
N2 Cast Wishbone
For 19mm seat stay and 22.2mm tube


Columbus Compass Headsets

1-1/8" Upper and Lower
Stack Height 16+0.7=16.7mm
Head Tube I.D. Ø 42mm
CERAMIC: 45° Ceramic ACB (Titanium race, ceramic balls) - Carbon Top Cap
CARBON: 45° Stainless Steel ACB - Carbon Top Cap
M1 Seat tube Sleeve 31.7mm OD, 27.2mm ID Steel or Stainless Steel
Stepped to fit inside Columbus SLFM13 - 31.7mm outside diameter seat tubes
so that standard 27.2mm seat posts can be used without shim with lugged frames
Q3 Stainless Steel Dropouts 70 degree
17/4 Grade Stainless Steel
Mitsugi Fork Crown
25.4mm or 28.6mm. 50mm between tangs.
S2 Stainless Steel Front Derailleur Boss
20mm slot. With locating Dimple. For 28.6mm seat tube
S2-31.7. As above Stainless Steel Front Derailleur Boss but for 31.7mm seat tube
293B Pannier Boss Front

Extended for extra clearance
W4 Tig Dropouts
Steel with Stainless Steel Replaceable Hanger



Cycle Design USA
Now Stocking Fillet Pro and System 48 Silver. Also their special bronze and silver solder flux pastes. See here for more detail.
Retro Track Nut - Chrome Plated M8



New Disc Brake Options - 4130 Plate


V1 - Long Slot Type. NB seat stay dropout position/bend may need to be optimized to get correct disc mounting. Easiest with Breezer/Wright/Surly type dropouts.
V2 - Extra Support Type
Limpet - Stainless Steel. Available in 28.6, 31.7 or for chain stay.
DBH Disc Brake Dropouts
Available in steel and stainless steel
Stainless face kit option available.
All threads have to be cut.
Supply worldwide except to Germany
DBNH Disc Brake Dropouts
Suitable for Rohloff
Available in steel and stainless steel
Stainless face kit option available.
All threads have to be cut.
Supply worldwide except to Germany
NDBNH Dropouts
Suitable for Rohloff
Available in steel and stainless steel
Stainless face kit option available.
All threads have to be cut.
Supply worldwide except to Germany
DB Disc Brake Mount
Available in steel and stainless steel
Stainless face kit option available.
Radius curve suits Ritchey cast dropouts
Supply worldwide except to Germany
DBF Disc Brake Fronts
Available in steel and stainless steel
All threads have to be cut.
4mm washer for IS2000 offset included
Supply worldwide except to Germany
479S Stainless Steel Integrated Head Tube Rings
Suitable for Columbus 36mm Head Tubes eg XCR stainless or CYRK18 normal steel. Internally presized for Campag hidden headset standard (ie 42.0mm x 45 degree)
141S. Stainless Steel Diamond Cap for Internal Top Tube Routing
Also now 368S Stainless Steel End Stops for Internal inner wire routing

MAX Type Fork Blades. Aero Profiled along the full length
1.0mm gauge x390 length. For use with any of our MAX fork crowns
as well as LE-MAX cast fork tips. Cromoly Material. Non Columbus.


Dedacciai 29er Down Tube 38 x 0.8/0.5/0.8 x 750mm
COM (Nivacrom equivalent) material


Columbus XCR Stainless Steel Tubing for Lugs. Standard Oversize Tubes.
Specifications in Columbus 2001 Catalogue Here


Cadenzia Lugset
Specifications Here. 36mm Head, 35mm down, 31.7mm top and seat tube. Also available in Stainless



Custodian Lugset
Specifications Here. 31.7mm Head, 31.7mm down, 28.6mm top and seat tube. Also available in Stainless

489S Head Tube Rings Stainless Steel
For 36mm Head Tube (28.6mm Forks)

F362 Brake Bridge Diamond
F362S Stainless Version
Cast. Suitable for C131 aero brake bridge
F471 Fleur de Lys Combined Cast Bottle Boss and Diamond
F471S Stainless Version
193S Stainless Brake Bridge 65mm
196S Stainless Chain Stay Bridge 33mm

200S Stainless Cable Guide.
Comes with Plastic Clip. Also Suitable for Zip Tie
Indexed Cast Down Tube STI/Ergo Boss.
R3 - Standard Steel
R3S - Stainless Steel
Fleur De Lys Top Eyes.
K2 12.7mm Internal Diameter
K2S As above in Stainless
K3 10.7mm Internal Diameter
K3S As above in Stainless
Thread Oil Aerosol

Thread Cutting Lubricant. 200ml

808N Disc Brake Boss
New Shape
189T Brake Bridge
No Brake Hole. Suitable for Track. 80mm Width
R9 Gear Lever Boss to STI/Ergo Boss Convertor
R9S - Silver
R9B- Black
Externally Butted 31.8mm Seat Tubes Now available
32.3/31.8mmx1.2/0.7/0.9. Either 450 or 540mm Length. Cromoly Steel

Machined Steel Brake Boss with Replaceable Pivot

J+3 RP - Front
H8 RP - Rear
Track Plate Dropouts with Stainless Faces
RE1430 - Standard Steel Plates with Stainless Faces
RE1430S - Stainless Steel Plates with Stainless Faces.
29er Down Tubes Now Available
In Zona Nivacrom.
35 x 0.8/0.5/0.8 x 750mm
38 x 0.7/0.5/0.7 x 750mm
42 x 0.7/0.5/0.7 x 735mm
Rene Singer Cast Lugs
For 28.6mm Top Tube and Seat Tube, 31.7 Head Tube and Down Tube. M5 STI Bosses
Also available in stainless.
W33 Clamp on Mech Boss
For 28.6, 31.8 or 35mm Seat Tube

S05 Alloy Seat Clamp 31.8mm or 35mm (S06)
Black Anodized. Angled tightening mechanism as recommended for carbon seat posts
New Stainless Versions of Cast Parts Already Stocked:

C131S Brake Bridge
Stainless Steel Brazeons
297S Stainless Chain Hitch
111S Stainless Cable Stop
282S Stainless STI/Ergo Boss
296S Stainless Gear Lever Boss
H20 Brake Boss. For Maximum reach. 20mm Bias.
Stainless Steel Brazeons
360S Bottle Boss Diamond. Reynolds recommend using bottle boss diamonds for their 953 tubing.
581S Mudguard Eye
294S Pannier Boss
478INOX Bottle Boss M5 Stainless Steel
Dead Ended, to prevent water entering the frame through the bosses.
Can be supplied with M5x12 Stainless Steel Socket Head Bolt
470 Bottle Boss with 4mm Lip
Extra thick lip so the bottle cage more easily clears the front derailleur clamp

Sif Bronze Tool Tipping / Brazing Flux for Stainless Steel

Use with Sifbronze No.1 or No. 2. (available from stock)


Brass Deluxe STI Adjuster Screws with Stainless Spring
Dedacciai Carbon Rear Ends Stocked with Components for Steel.
Optional components also available for Aluminium and Titanium
Z3 Brake Bridge Stainless Steel


Quikchanger TM Stainless Steel Braze on Mount
For more details Click Here



Quikchanger TM Clip on Mount
For more details Click Here Full Instruction included.



U Brake Boss
| | | | | | |
| --- | --- | --- | --- | --- | --- |
| SS | EG0915OV...101 | Ego, Nivacrom | 25/12 oval, double tapered, L=550, 0.6 | 126 g | |
EGO Deep Section Aero Seat Stays

Back in Stock
902 Cast Steel Seat Boss
For 28.6mm Seat Tube
902S Stainless Version.
902-31.7 Cast Steel Seat Boss
For 31.7mm Seat Tube
902S-31.7 Stainless Version.
M6 Thread. Best brass brazed.
900 Cast Steel Cantilever Pivot with replaceable Spigot
With Replaceable Spigot

900S As above but in Stainless Steel

Braze on part is stainless, screw in pivot is not stainless.

422S Allen Key Bolt. Stainless Steel
Long. 26mm. Suitable for Deep Section.
201 Zip Tie Cable Guide. Now comes with Clip
Black Anodized Aluminium. Rivet on.
200 Zip Tie Cable Guide. Now comes with Clip
Brazeon.
W2081 Cast Underbracket Guide.
Stainless Steel
360 Bottle Boss Diamond
129S Pop Nut Bottle Boss M5
Stainless Steel 6.8mm OD

129 Pop Nut Bottle Boss Boss

Non Stainless 7.2mm OD
T12 Cast Screw on Head Tube Mount for STI Guides
Sized for 36mm Head Tube. Stainless Steel.
T7 Alloy Dropouts 7000 Series. Vertical
With Replaceable Stainless Steel Faces
R2 Gear Boss STI/Ergo M5. Cast.
Cast Stainless Rivet On Derailleur Boss.
Now available in size to suit 35mm Seat Tubes as well as the previously stocked 31.8mm version.
C1 Stainless Steel STI/Ergo Adjuster Screw.
M5. Suitable for L1 Boss. See Below. Supplied with Stainless Spring.
C2 Stainless Steel Brake Adjuster Screw & Stainless Lock Nut

M6.
L1 Stainless Steel Down Tube STI/Ergo Gear Boss
Available profiled for 31.7mm or 34.9mm down tubes. M5. Supplied Unpolished, for use with paint or for polishing without paint.

Now supplying Worldwide
183 Indexed Alloy STI/Ergo Adjuster Boss
Rivet on Type. Black Anodized. Index Cable Adjusters also available.
Stainless Steel Rivets available for above.
In Line Gear Cable Adjuster Set.
Click here to see where these fit.


Cable Stop Gear Adjuster

Dedacciai MPO22K10632 EOM Offset MTB Chain Stay. Special Shaping
Dedacciai MPV180A5012 EOM Offset MTB Seat Stay. Special Shaping



N1 Wishbone Fitting.
Road Type. For 16mm Seat Stays and 19mm Connector Tube
N2 Wishbone Fitting Fitting.
Aluminium Bottle Boss Fitting Tool.
Suitable for 129S Aluminium Bottle Bosses we sell (see above).
Columbus Carbon Seat Tube for Steel Frames. Now in Stock
4130 Cromoly Seamless Steel Steerer Tube Material
1" x 0.058" x 5 foot lengths
1 1/4" x 0.058" x 5 foot lengths
Fleur De Lys Lug Set Now Available in Stainless. We are now stocking in stainless the complete Fleur De Lys Lug Set including 3 main tube lugs, Bottom bracket Shell English thread, Fork Crown (straight), Fork Ends, and Adjustable angle Rear Dropouts. For the time being we will be selling these parts together as a set only. If required seperately we can special order these parts in for you, see below. We've shown above a finished Fleur De Lys Stem, made up of the stem lugs and supplied stainless tube, seperately available as a set from stock, as an example of the kind of finish that it is possible to obtain after polishing.
Other Long Shen Cast Stainless Parts are available to special order also. Any Long Shen part you see in our listings we can obtain for you in stainless. We can arrange this for quite low minimums typically 3 pieces of the same part for lugs, crowns or shells, 10 pieces for smaller parts. Lead times depends on our current ordering situation, but 12 weeks is normal.
| | |
| --- | --- |
| | Metax Stainless Head Tubes |
Metax as a set has been unavailable from Columbus for some time. However we have obtained a quantity of Metax 31.8mm head tubes in 1mm gauge. Either 230mm or 600mm lengths are available.

Is there a part you particularly wish we could stock? Let us know about it and maybe we can!
Please do include your email address, so we can contact you if we do.